I know this isn't a very original sentiment, but I adore Amsterdam.
I had the opportunity to turn work-related events (a plenary at SIGCHI.NL and Adaptive Path's 2-day workshop) into a delightful European adventure, with more time spent in Amsterdam than any other city.
I last visited Amsterdam in 1994, and was surprised at how little had seemed to have changed — which is for the better, since I loved it back then, too.
Forthwith, a few notes on our travels in Amsterdam, with some suggestions for other folks visiting there.
The Canals
Of course. Particularly the Prinsengracht, Keizergracht, and Herengracht, and particularly on the west side. Peaceful, lovely, relaxing. And with good shopping, cafe-ing, etc. It was on our first walk of our first day that we settled into a delightful cafe at the corner of Prinsengracht and Leidsegracht, a cafe that became our "local." (Of course, I don't know the place's name). You can sit at tables overlooking the canal, while drinking screwdrivers made with fresh-squeezed orange juice. By the time we got here, we were quite hungry, and noticed the table next to us had a plate of meat snack appetizers. We asked our waiter for it, who at first discouraged it, "It's raw meat–a very Dutch food." But we insisted, and it was quite yummy.


Stacy enjoying the best screwdriver ever.
A key canal excursion are the ever-present boat tours.


Here we are, at the start of the tour.
Though unrepentantly touristy, the tours offer a great perspective on the city. We took the Holland International boat tour, the audio for which was pretty lame. We heard later that the Lovers tour is widely appreciated.

peterme with a canal behind him.
Eating and Drinking
While the Dutch aren't known for their cuisine, we actually ate very well, in large part due to helpful pointers from locals.
Perhaps the most "Dutch" food we ate was Nieuwe Hollandse – raw herring.


The Dutch love food that can be eaten with toothpicks. Even better if it's got a flag on it!
We had good contemporary meals at Cafe de Jaren and Cafe de Koe. De Jaren scores many points with me, as it's a great place for coffee and reading — they even have library tables with the arced late placed over your reading material.
For drinking (whether it was coffee or booze), de Balie was great — spacious, with free-wifi. Peter turned us on to de Zotte, a beer bar specializing in Belgian brews. Oh, and we had a delightful afternoon coffee-turning-into-beer at Cafe in de Waag, which has a prime spot on the Nieuwmarkt.

Cafe in de Waag, picture stolen from their site.
One of the nicest things about drinking in Amsterdam is that no matter where you went, you could simply order a "Beer", and trust that what would be brought (which would be whatever was the primary house tap), would be good. So easy!
Out and About
Amsterdam is not a museum town, not like a Paris or New York. While we were there, both the Rijksmuseum (art throughout the ages) and the Stedelijjk (contemporary) were closed or greatly reduced. The Van Gogh Museum, however, was open, and it's a treat unlike any other in the world. In my book, it's the only "must-see" museum in Amsterdam. Being able to trace this great artist's evolution is an enlightening treat.
A spot we enjoyed returning to was the Albert Cuyp Markt. It's a bustling open-air market, with bargains on everything from cheese and produce to ticky tacky souvenirs or cosmetics. It's also a good place to score fries. We were told that this is the best place to get fresh stroopwaffels, but we never figured out where.


Drinking a beer near the Cuyp Markt
Amsterdam is an interesting architecture town. It's not uncommon to see startling modern boxes next to 18th century gabled houses. One morning, we headed out for the Java Island, which is the site of some remarkable contemporary urban residential architecture.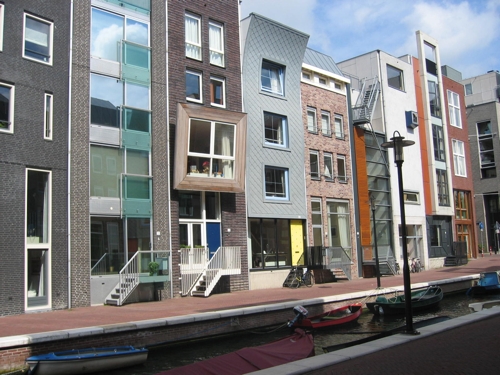 Click to enlarge
If we had been in town on a Saturday, I would have most definitely taken the canal tour that winds through these new developments. (I can't find reference to it online. You can get information from the Holland International dock near Centraal Station.)
Lodging
Since we were footing our own bill our first couple of days, we stayed at the Albay Homestay, a kind of bed-and-breakfast without the breakfast out near Oosterpark. It was reasonably priced (€85 a night for two people), and we stayed in the Marhay room, which was quite spacious, and had access to a large private garden. (Apologies — we neglected to photograph the lodging).The Albay is definitely out of the way for most travelers, but it's only one block from two major tram lines that will take you to where you want to go (Central, Museumplein, etc.).
Our next two days were paid for by the good folks at SIGCHI.NL, so we were able to upgrade and get a little more central, and we ended up at the Crowne Plaza Amsterdam-American, formerly known as the "American Hotel," through a deal we found on Hotels.nl. This proved to be a perfectly serviceable business-class hotel, which meant that it was disappointing — the American Hotel has a reputation of an art nouveau delight, and I was hoping for nifty classic design touches. While the exterior, and the Cafe Americain still provide the swoopy glory of nouveau, the interior of the accommodations was renovated a few years ago, and felt remarkably undistinctive.
Upon returning to Amsterdam, the company put us up at Dikker en Thijs, located very near Leidseplein, along then Prinsengracht (a canal). Our room was the same size as what we had at the Albay, only it cost more than twice as much. Also, "service" seemed to be a novel concept — calling down for an iron and ironing board did no good, I had to go down there and schlep it up. We also find out that when the list "Internet connection" as a room facility, what that really means is that there's an available phone jack you can use for dial up. Huh.
We had wanted to stay at 't hotel, which looks very cool and got good notices from friends, but it's a small place that was all booked up by the time we called them.
Thanks
For our delightful time in Amsterdam, much thanks to Peter Boersma (and his lovely girlfriend), Peter Bogaards (as strapping as the photo suggests), and Tjeerd de Boer, for pointing us in all the right directions.