« A Few Days in the Pyrenees | Main | Goodies from Adaptive Path »
July 11, 2004
Photos from and Thoughts on Barcelona
I, seemingly like everyone else, adore Barcelona. This was my first visit, and it was too brief (only 3 days). It became very clear very quickly that the best way to see this city is to rent an apartment for a week or two (or four) and live the life.
Being first time visitors to the city, we did our part to take in Gaudi and the other Modernist architects. Our first morning, we headed straight for Parc Guell, Gaudi's attempt at an upper-middle class garden city (which failed, and was turned into a public park).
Tourists visiting Parc Guell will be tempted to take the subway and then walk. Let me discourage this. We did it, and the walk is a) not brief, b) mostly up hill and c) has you enter at the least appealing part of the park. If I were to go back, I'd take a cab. Taxis are very affordable, and a trip up to the Parc probably would run you about 4 Euros.

Right angles? Bah!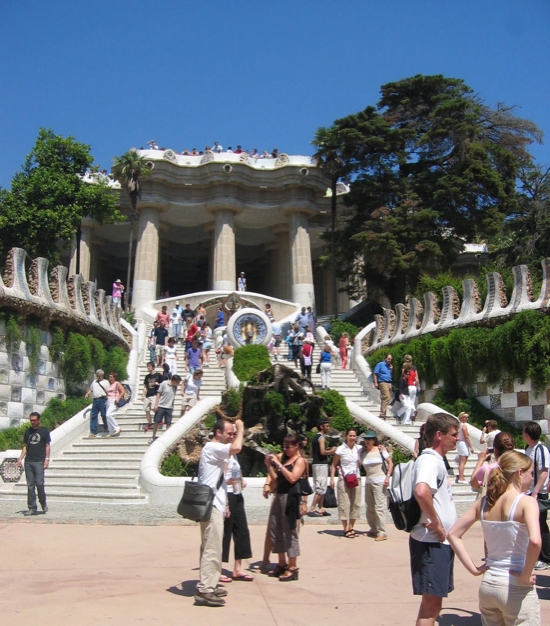 Near the entrance to the park. I'm helping some other travelers get a photo taken.

One of the park's niftiest attractions is the Gaudi House, where he lived for the last 20 or so years of his life. It's set up as a kind of museum, and is a marvel of architecture and interior design in the modernist/art nouveau mold.

The exterior. Click to make bigger and see the detail.
Inside, there's lots of nifty furniture.

Flowery couch

That would look very nice in my bedroom
After Parc Guell, we made our way to the Hospital de Sant Pau, a remarkable Modernist architecture experience. The architect's idea was that patients would recover more quickly in a beautiful place -- a marked departure from typical hospital design. It's a stunning public work.

Hospital Building

Column thingy

A short walk from the hospital is Sagrada Familia, what is considered Gaudi's monumental masterwork.

Spires atop the cathedral. "Excelsis" and "Hosanna" visible in the spires.
You can climb up the temple's towers, and look over the city.
The temple is awesome. As our guidebook noted, If You're Going To See One Thing In Barcelona, this is it. A dizzying, delightful work. I was particularly taken with the Passion Facade - a set of sculptures depicting Christ's death and ascension. The work of Subirachs, these scultptures are so unexpected that they really drew me in. The blocky shape of the figures is at first shocking, and then their beauty and power become clear.

Just thought it was wild that Art Nouveau is everywhere
Cacao Sampaka (above) is a store that combines high design with amazing chocolate. It's both a chocolate store and a cafe. We ordered an "Azteca" (a warm chocolate drink comprised of 80% cacao), toasted chocolate sandwiches, and toast with chocolate-raspberry jam. And we bought bonbons to take home. This store would make a mint in Union Square in San Francisco.
The sidewalk along the Passeig de Gracia, the main shopping strip, is laid with this delightfully detailed tile. It's just everywhere. Amazing.
One of our favorite aspects of Barcelona was learning about its origins as the Roman City of Barcino. We visited the Museu d' Historia de la Ciutat, which is set atop an archaeological site that you get to wander through. The amount of 4th century roman stuff that's preserved is remarkably -- you wander around this city, through the wine and fish factories. You can't take photos of the site, but that's okay, because Roman ruins still stand in right in the city.
Barcino was a walled city, and some of those walls remain, 1800 years later. It's fascinating that they remain the center of the city, and that their presence affected the development around them.

Roman sandstone walls incorporated into later buildings. I think that arch had an aqueduct above it.

An old roman gravesite, with ...
.... kitty!
And now, for some other stuff.


An exceedingly popular cava bar, where people are pressed together like sardines. I couldn't imagine why anyone would go in there.
Click to Enlarge. This is George Orwell Square (as noted on the left), which makes the sign to the right all the more ironic.
That's it for photos.

Posted by peterme at July 11, 2004 10:59 PM
Comments
Did you only visit Barcelona in Spain? Oh, poor, you missed a lot, boy, Spain is ffffulll of art, and Gaudi did not only work in Barcelona.
So next time send me an e-mail, here we are many IA´s who can show you a little bit more of country ;-)
Posted by: Jorge Serrano at July 12, 2004 02:16 AM
I *so* agree about not taking the subway to Parc Guell. Not only because of the unexpected distance that was mostly uphill (I almost got lost thinking I had gone too far) but also for the last reason you give: the trail by which you enter the park is far from impressive. The best thing about that trail is the view it affords looking over the entire city toward Olympic Village.
From the sounds of it, you got to take in quite a bit more than I did on my visit a couple years ago -- which was only 2 days plus change that was tacked on to a business trip to Madrid.
What I found most striking about this wonderful city, was the stark contrast of the very old with the incredibly modern (new). From the Gothic Quarter and the old Roman walls, to the structures in Olympic Village down by the water.
Oh, and despite the fact that it draws lots of tourists, I loved walking down Las Ramblas. The concept of one little lane for cars going in each direction, with a wide open tree-lined expanse filled with vendors, cafe seating, and shops in the middle was something we could take a lesson from. Not practical for auto traffic, but less of that would be a good thing.
Thanks for the photos which conjured up a few good memories.
Posted by: Doug at July 12, 2004 09:20 AM
oops. i guess i should have told you about the bus to parc guell.
Posted by: judith at July 12, 2004 05:46 PM
How come you didn't invite me to go to Barcelona with you guys. I'm no fun anymore? Is that it? I'm married and so I can't go to Barcelona, now, is that the rule? I'm not bitter, I just want answers. Great photos Peter.
Posted by: Dick at July 13, 2004 12:43 PM
Yes, to really know and appreciate Barcelona, you have to live there for a good while, go out way too late, learn a little Catalan, go into some packed cava bars, and even walk quite a lot taking in the non-stop buzz on the streets. It's a great place. Let me know if you are looking for an apartment there.
Posted by: Andrew at July 13, 2004 10:52 PM
I've loved looking at your photos - thank you for documenting your trip for the rest of us. As someone who's seen your house, I know for a fact that wardrobe wouldn't fit in your bedroom ;)
Posted by: Evan at July 27, 2004 01:02 PM
You can also check the pages about...
Posted by: Anonymous at January 1, 2005 11:43 PM
Hi, nice pics. I am just learing to blog and watching some video your blog was used as an example. I have to check it because I just came back from barcelona and I post a picture and some comments. Surprisignly my lines coinide with your impression about modernism art all over the city. Watch it here: www.desdenorwich.blogger.com.
by the way, is in Spanish.
Posted by: Cesar at January 23, 2005 01:08 AM
Posted by: shelly at March 30, 2006 11:43 PM